Industrial Eiffel building in Maastricht transformed into a hotel
The old, monumental factory building of sanitary manufacturer Sphinx in Maastricht has been transformed into a complex for living, working and retail. A new location of The Student Hotel has been realized, which occupies most of the building. Merford has supplied and mounted the inner profile steel facades for the entire hotel. A challenging task due to size deviations and tight planning.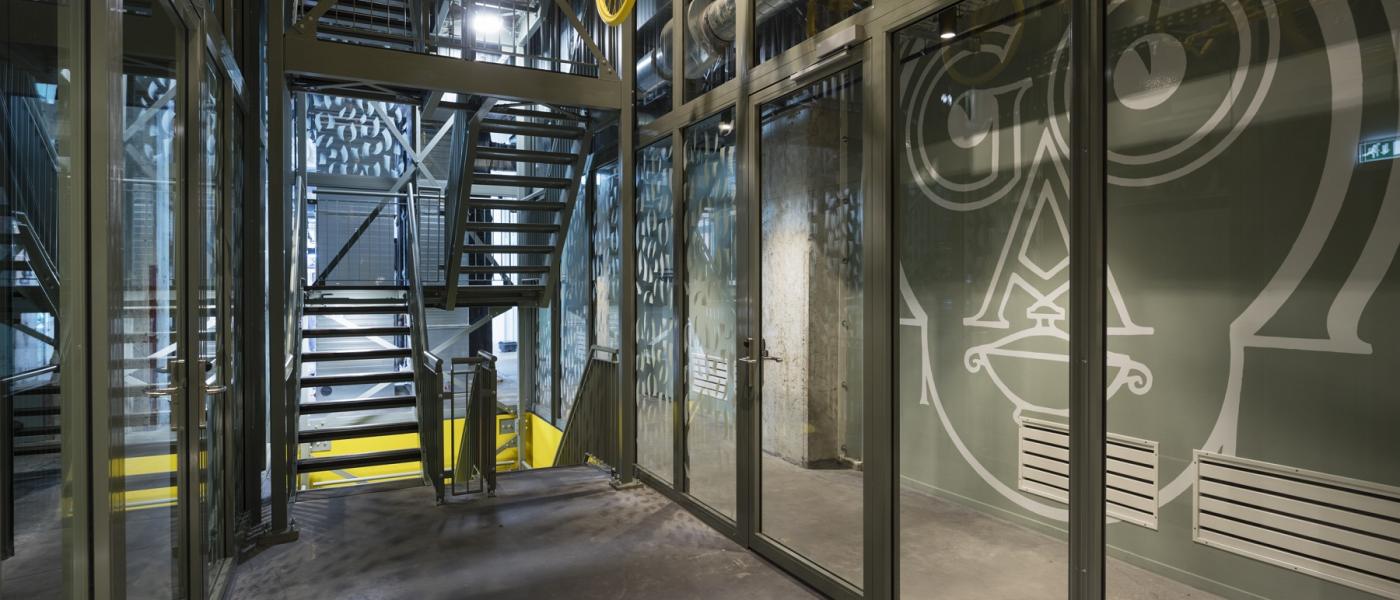 In 2016 contractor BAM Bouw en Techniek started with the transformation of the historic Eiffel building in which, from 1928 to 2006, the sanitary factory of Sphinx was located. The building is part of an area that the city of Maastricht is redeveloping into a vibrant modern district with an important cultural function with a new name: The Sphinx Quarter. The seven-storey and 180-meter-long Eiffel building houses loft apartments and offices in addition to an office of The Student Hotel. There will be spaces for retail and hospitality in the plinth.
Monumental and transparent
Architectural firm Braaksma & Roos was responsible for the transformation of the body of the national monument. They faced the challenging task of making the building, which at that time was in a very poor architectural condition, attractive, accessible and sustainable for dynamic and flexible use in the future. In addition, valuable elements had to be preserved in the interior of the Eiffel building due to its monumental status. In the past, the plinth of the Eiffel building was connected to the surrounding sanitary ovens. For the new use, the plinth is fitted with high glass fronts, giving the building a special transparency to the surroundings. A public passage on the ground floor facilitates a strong connection between the old city center and the new district. A sizeable sky bar will be built on the roof of the building, offering impressive views of the entire city.
Transformation to hotel
The transformation, while maintaining its historic character, also brought the necessary challenges for contractor BAM Bouw en Techniek. The work consisted on the one hand of the shell restoration of the entire building on behalf of WOM Belvédère, and on the other hand the realization of the 378 rooms and hotel facilities, on behalf of The Student Hotel. Richard Klijnen, Senior Project Manager at BAM, says: 'Because other building tolerances applied eight decades ago and the effect it had, had an impact on the building, much that seemed straight was actually crooked. Various details were also different from the original drawings. By applying modern materials and components in a building with many deviations, everything was ultimately made to measure.' (source: Urbanism) Yorick Zwanenburg of Merford can confirm: 'Because nothing was straight, we measured everything ourselves accurately, then our engineers started work to draw everything out, taking into account all unevennesses.'
Steel inner facades
Transparency is also central on the inside of the hotel. This is achieved by using glass facades for the various rooms that connect to the communal areas and corridors. As a result, the historical character remains visible everywhere. The choice of Jansen steel profiles for the interior facades is in line with the old style and the concrete of the building. Merford came into the picture at BAM for the supply of the steel inner facades following the request for another building section, the sky lobby. 'Through the thinking and advice we gave there, we also came into the picture for the internal facades that we were finally awarded. Because we stepped in late for this part of the project, in addition to the custom work, the biggest challenge was to get everything done on time,' says Zwanenburg. 'As a project organisation, we have a lot of experience in dealing with such projects. We arrange everything, from measuring to delivery and assembly. We take everything off the contractor's hands. A good project approach and phasing is important here. For this project we have made a plan of approach in which we have looked at what is most efficient for the customer. As a result, we were able to supply the sound-insulating doors and steel facades for the expansion of the Muziekgieterij, a pop podium in the adjacent Timmerfabriek.'
The Student Hotel
The Student Hotel is a hybrid place where students, residents, tourists, business travelers and young professionals share spaces, meet and inspire each other. The hotel combines contemporary design and high-quality hotel facilities with high-quality short and long stay facilities. The Student Hotel includes a gym, bar-restaurant, library, laundry, bicycle rental, lounges, workshop spaces and work and study places. The sky bar with an impressive view over the old city center is the highlight of The Student Hotel Maastricht. In the interior of The Student Hotel, the building's special past is frequently hinted at. Visitors are welcomed by two enormous sphinxes upon arrival, vintage toilet bowls are hanging on the wall in the colourful lobby and the 'real' sanitary facilities are of course also handled by the former 'residents'. (Source: BAM Bouw en Techniek)